Local CDL Class A Driver Jobs in Madison, WI
Are you a CDL Class A driver looking for truck driver job opportunities in Madison, Wisconsin? With numerous potential job opportunities available for a driver who has a CDL Class A license, you should be very particular about the company you choose for employment. Although there are a lot of companies looking to fill positions, finding one to fits your lifestyle as well as great benefits, can be a bit more challenging.
As of May 6, 2019, the average annual pay for a Class A Truck Driver in Madison, WI is $53,601 a year.
While a few job sites like ZipRecruiter are seeing annual salaries as high as $78,452 and as low as $25,182, the majority of Class A Truck Driver salaries currently range between $40,194 (25th percentile) to $61,017 (75th percentile) in Madison, WI.
At Service One Transportation employees are treated like individuals and not just another number, and can earn $69,000 or more a year. Company drivers are given the flexibility to be home every night, or if you prefer to be on the road for longer stretches, Service One Transportation will work with your schedule to ensure you are home for significant dates. If you have a family member or pet you would like to bring with you while you are on the road, Service One Transportation accommodates those special circumstances as well. Additionally, Service One Transportation employees receive many benefits, including medical, dental, vision, life insurance, 401K with company match, paid vacation and paid holidays. At this time, Service One Transportation, a Wisconsin trucking company, has available job openings for Class A CDL company drivers and owner-operators.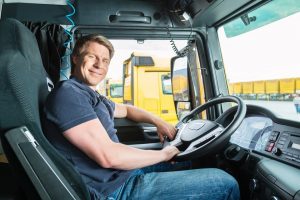 Service One Transportation CDL Truck Driving Jobs
Flexible Home Time – Family First Company
Now Hiring CDL Truck Drivers
Full Benefits: Medical, Dental, Vision, Life
401K with Company Match
Paid vacation & Holidays
Come to a company who will treat you as an individual not a number