For Immediate Release
South Sioux City, Nebraska – SERVICE ONE TRANSPORTATION INC. was presented a PLATINUM award by Great Western Casualty Company as part of the 2015 Workplace Safety Awards Program.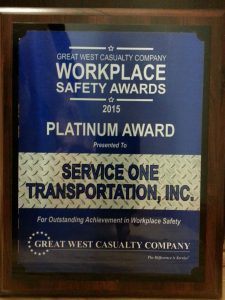 The Workplace Safety Award program recognizes trucking companies for their dedication to creating and fostering a safe work environment for their employees. Awards are based on a motor carrier's year-end workplace incident rate. carriers are eligible to receive a Platinum. Gold, Silver or Participatory award. This past year, the Workplace Safety Awards program drew over 125 participants from across the country. Recognized, as a leader in providing full-service truckload services throughout the United States and Canada, Service One Transportation was presented a PLATINUM, and GOLD 2015 Workplace Safety Awards by Great Western Casualty Company.
"We are truly honored and proud to receive the Platinum Workplace Safety Awards by Great Western Casualty Company," said Dan Flagstad, Jr., President of Service One Transportation. "We take take pride in providing a wide-range of professional trucking jobs and our contemporary fleet of high-end trucks are chosen with drivers' safety and comfort in mind, and our family-first culture ensures a proper balance between work and personal time."
About Great West Casualty Company
Great West Casualty Company is the nation's leading provider of property and casualty insurance for the trucking industry. With our 50 years of experience, Great West offers risk management, underwriting, claims, and loss control services exclusively to the trucking industry. Great West is headquartered in South Sioux City, Nebraska, and has regional offices in Meridian, Idaho; Bloomington, Indiana; Knoxville, Tennessee; and Arlington, Texas.
About Service One Transportation Inc.
Headquartered in Plymouth, Wisconsin, Service One Transportation offers a full range of trucking services and logistic services—including truckload, volume less than truckload (LTL) and expedited shipping—throughout the 48 contiguous United States and all Canadian provinces. For more information about Service One Transportation, Inc., visit www.serviceonetransportation.com or call 920-467-4793.