Truck Driver Employment Reaches Record High; Wisconsin-Based Trucking Company Service One Transportation Among Firms Hiring Company Drivers and Owner-Operators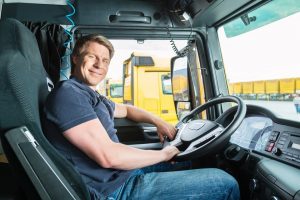 PLYMOUTH, Wis., Feb. 15, 2016 /PRNewswire/ — Trucking employment reached a record high at the end of 2015; with 5,300 truck driving jobs added in December, the for-hire trucking workforce surpassed over 1.46 million drivers according to the U.S. Bureau of Labor Statistics.* Service One Transportation was among those increasing employee headcounts last year, and the Wisconsin-based trucking company is currently hiring both company drivers and owner-operators.
Service One began with a single truck in 1997; since then, the family-owned business has grown to employ more than 50 drivers. The company is highly regarded among drivers for offering excellent per-mile pay, full benefits and performance bonuses as well as paid vacations and holidays. Four new drivers have joined the Service One team since October, including three with prior experience and one that transitioned straight from driving school into Service One's finishing program for new drivers.
"Our continued growth at Service One has provided great opportunities for both company over-the-road truck drivers and owner-operators," said Mike Myszewski, Vice President of Service One. "Having worked with other companies throughout the industry, I can honestly think of no better place for truck drivers to embark on a long, rewarding and fulfilling career, and we welcome skilled individuals to join us at the home of Wisconsin's best drivers."
"At Service One, our company places a strong emphasis on truck drivers' wellbeing and relationships," noted Dan Flagstad, Jr., President of Service One Transportation. "Our family-first culture ensures a proper balance between work and personal time, and we even offer a family rider program that includes pets. We know every one of our drivers on a first-name basis, and we value them as both professionals and individuals. Our contemporary Volvo fleet is chosen with drivers' safety and comfort in mind."
Service One's genuine concern for drivers' welfare is echoed by the company's many long-term hires, who unreservedly endorse Service One's truck driving jobs. "I like driving for Service One. They do whatever they can to accommodate my schedule so I can get home to my family on the weekends," said Scott Wirtz, who has been driving for Service One for 13 years.
Driver Jim Bauer has been with Service One for over five years. "I feel like a family member here. They care about you," he asserted. Bauer also has great confidence in the company's equipment and maintenance. "I've been driving the second-oldest truck in the fleet, and I'm not afraid to take it anywhere. Wherever they send me to, I know it's going to get me there and back, because the maintenance is top-notch here."
Randy Gilson, who has been driving trucks for over 30 years, concurs. "I've worked for other places that don't take care of their stuff at all. They have a lot of breakdowns on the road, and that's all downtime. As a driver, you're not making any money when you're sitting," he explained. Gilson has been employed by Service One for the past seven years and describes it as "the nicest place I've been so far."
Service One currently has openings for both company drivers and owner-operators. The Wisconsin trucking company welcomes applicants from its home state as well as neighboring areas, including Illinois, Indiana, Iowa, Michigan and Minnesota.
To learn more about truck driving jobs available with Service One Transportation, visit https://www.serviceonetransportation.com/truck-driving-jobs.
About Service One Transportation, Inc.:
Headquartered in Plymouth, Wisconsin, Service One Transportation offers a full range of trucking and logistic services—including truckload, volume less than truckload (LTL) and expedited shipping—throughout the 48 contiguous United States and all Canadian provinces. Dan Flagstad, Sr. founded Service One in 1997 with a single truck; today, Dan Flagstad, Jr. oversees the family-owned and operated business, which now employs more than 50 drivers. The Wisconsin trucking company has earned a reputation for unsurpassed customer service and is dedicated to "doing whatever it takes to get the job done right." Service One is also highly regarded among drivers, offering excellent pay, full benefits and a "family-first" culture that ensures a proper balance between work and family time. For more information on Service One Transportation and its trucking, warehousing, logistics and supply chain solutions, visit www.serviceonetransportation.com.
* Cassidy, William B. "December Hiring Pushes JOC Trucking Employment Index to New High"; The Journal of Commerce; January 8, 2016.
Read the news release on Yahoo Finance!
Media Inquiries:
Dan Flagstad, Jr.
President
Service One Transportation, Inc.
https://www.serviceonetransportation.com
(920) 467-4793