How much is the average salary in Milwaukee, Wisconsin for CDL Class A drivers? In Milwaukee, the average salary for truck drivers, which includes CDL Class A drivers, is $74,313. This average salary is an estimate based upon data reported to Indeed by 2,100 participants as of March 2019.1 Those participants include employees who are truck drivers, users of Indeed.com, and current and previous job advertisements posted over the last 36 months.
Truck driver salaries tend to vary significantly. According to the U.S. Bureau of Labor Statistics, the salary range for Heavy and Tractor-trailer Truck Drivers is $42,480 per year or around $20.42 per hour; however, drivers also earn bonuses, benefits, extra hours and overtime.2 According to Indeed, CDL drivers in Milwaukee earn 9% above the national average.1
There are a wide variety of truck driver jobs available for all types of experience levels. As the need for goods to be transported continues to grow, the demand for truck drivers will also increase. It generally takes less than one year for a truck driver's tenure and the base salary is usually higher than the national average, making this a great time to secure a job as a CDL Class A driver.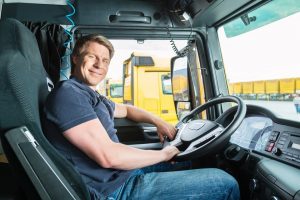 Earn $69,000+ – Service One Transportation CDL Truck Driving Jobs
Flexible Home Time – Family First Company
Now Hiring CDL Truck Drivers
Full Benefits: Medical, Dental, Vision, Life
401K with Company Match
Paid vacation & Holidays
Come to a company who will treat you as an individual not a number
Source:
(1) "Truck Driver Salaries in Milwaukee, WI." Salaries | Indeed.com, www.indeed.com/salaries/Truck-Driver-Salaries,-Milwaukee-WI.
(2) "Heavy and Tractor-Trailer Truck Drivers." U.S. Bureau of Labor Statistics, Occupational Outlook Handbook, 21 Feb. 2019.