As a Class A CDL driver, you are among one of the most employable people out there. Countless companies in countless industries are always looking for safety-conscious and reliable drivers to put behind the wheels of their big rigs. However, you might be having trouble with finding local truck driving jobs that are a perfect fit. Here are a few tips for finding a job that is lucrative and near your local area.
Online search via Google is the richest source of employment opportunities, but you have to know where to look if you want the best chance of finding local trucking jobs. If you are looking for owner-operator jobs you would search for keywords that have Owner-Operator in the search term, like "Owner-Operators in Wisconsin."
There are other types of job sites that may help you find the ideal job like Indeed, Monster ans Zip Recruiter as well as many local job post sites.
Online job boards, including government sites: These often ask you to fill out a general job application when you sign up for the site, which makes it easy to submit your credentials to several employers at one time.
Forums: As you chat it up with other professional truckers online, you might hear through the grapevine about employment opportunities before anyone else.
Classifieds sites: Although sites like Craigslist often have legitimate job openings, you need to be cautious. Scams are frequent, and even if a post is the real deal, it may have already been filled, but the company who posted it simply neglected to take down the ad.
Try Networking
Even though your best shot at finding local trucking jobs is online, that doesn't mean you shouldn't turn to other sources. Utilize your network. Your friends, family members, and casual acquaintances may work for or be close to companies that sometimes need to hire drivers. Spread the word that you're looking for a job, and you may be surprised by how many leads you get in return.
Building a Long-Term Career
The key is finding a company that pays what you are worth, treats you as a team-member and will be around long term. A new report issued by the American Trucking Associations revealed that large truckload carriers had an 87% driver turnover rate in the third quarter of 2018, while small carriers experienced 72% turnover.* Despite these trends, Wisconsin-based Service One Transportation ended 2018 with an annual turnover rate of just 6.8%, which places it among the industry's top-performing trucking companies in terms of driver retention. Lean More…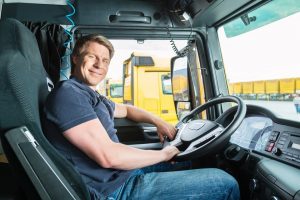 Service One Transportation CDL Truck Driving Jobs
Earn $69,000 Plus
Flexible Home Time – Family First Company
Now Hiring CDL Truck Drivers
Full Benefits: Medical, Dental, Vision, Life
401K with Company Match
Paid vacation & Holidays
Come to a company who will treat you as an individual not a number
[button link="https://www.serviceonetransportation.com/truck-driving-jobs/" target="_self" size="large" style_button="style-1″]Apply Now[/button]