Are you living in the Milwaukee, Wisconsin area and tired of jumping from job to job as a CDL Class A driver? If so, you are not alone. American Trucking Associations reports that in the third quarter of 2018, there was an 87% turnover rate for large truckload carriers, with smaller carriers experiencing 72% turnover.1 While the staggering turnover rate is applicable to many truckload carriers, Service One Transportation's turnover rate is only 6.8.2 In terms of driver retention, Service One Transportation is among the top-performing trucking companies in the industry.2
It's Time You Enjoy Your CDL Job With Great Pay, Flexible Home Time, Full Benefits
Service One Transportation is now hiring Class A Drivers in Milwaukee and surrounding areas. With high annual salaries, as well as full benefits, like medical, dental, vision, life, 401K with company match and paid vacation days and holiday, Service One Transportation is a great place to work. As an added perk, you can choose to be home every night, or have the flexibility to be home for important dates and times. Plus, if you would like to bring a family member or pet, Service One Transportation will work to meet your personal needs. If you are looking for a long-term career as a CDL Class A driver with a company that treats you like an individual and offers great benefits, then now is the ideal time to submit your application to become a part of the Service One Transportation team.
Source:
1American Trucking Associations. "Turnover Rate at Large Truckload Carriers Falls in Third Quarter"; press release issued January 3, 2019.
2"Wisconsin's Truck Drivers Build Long-Term Careers at Service One Transportation." Service One Transportation, 13 Feb. 2019, www.serviceonetransportation.com/wisconsins-truck-drivers-build-long-term-careers-at-service-one-transportation/.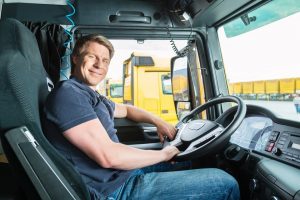 Service One Transportation CDL Truck Driving Jobs
Flexible Home Time – Family First Company
Now Hiring CDL Truck Drivers
Full Benefits: Medical, Dental, Vision, Life
401K with Company Match
Paid vacation & Holidays
Come to a company who will treat you as an individual not a number