Wisconsin Trucking Company Service One Transportation Provides a Stable, Long-Term Career Path, Excellent Pay and Full Benefits for Truck Drivers With a Class A CDL
PLYMOUTH, Wis., July 16, 2018 /PRNewswire/ — The U.S. trucking industry was short 38,000 drivers in 2014; by 2024, analysts project that shortage could be as high as 174,500(1)—resulting in strong employment growth, rising pay and job security for qualified drivers. Service One Transportation, a leading Wisconsin trucking and logistics company, is currently hiring drivers with a Class A commercial driver's license (CDL) and encourages job seekers to consider the advantages of a trucking career.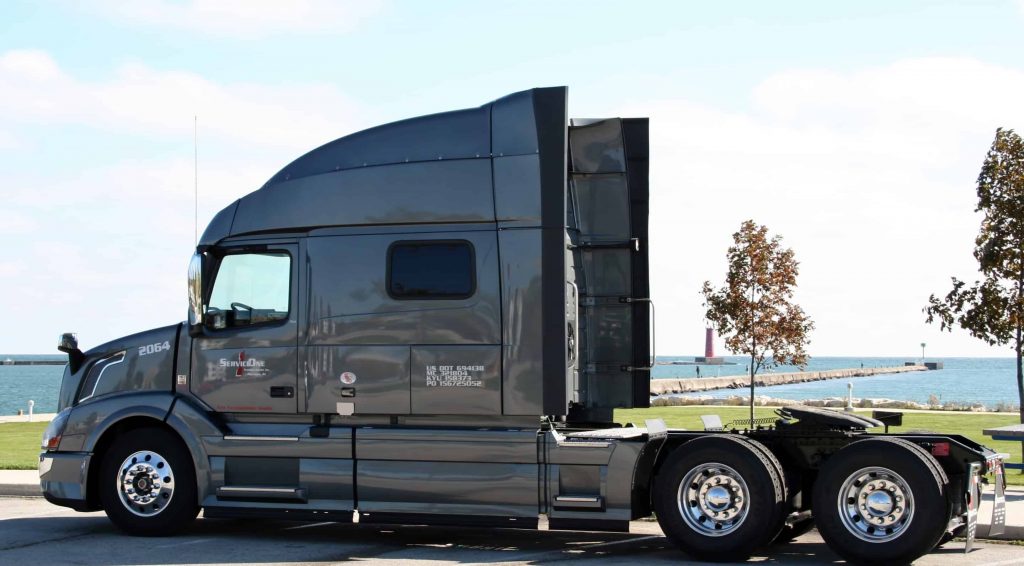 According to an American Trucking Associations (ATA) report, the industry will need to hire 890,000 new drivers in the coming decade.(1) Truck driving schools enable career changers to earn a diploma and their Class A CDL for a fraction of the cost and time it would take to earn a college degree. Program graduates who plan to pursue truck-driving jobs in Wisconsin will find their skills are in high demand, as the state's Department of Workforce Development (DWD) projects 13.2% employment growth from 2014 to 2024, with 1,574 job openings per year.(2)
While DWD data indicates Wisconsin truck drivers can expect an entry-level salary of $32,093 and a median wage of $41,904,(2) truck drivers at Service One earn $55,000 to $65,000 per year. "We recognize the worth of good drivers, which is why we offer an excellent salary and full benefits, including medical and life insurance, a company-match 401(k) program and performance bonuses," explained Dan Flagstad, Jr., President of Service One Transportation. "We treat our team like family, and we aim to provide them with a lucrative career path that offers long-term stability and the tools and support they need to succeed."
In addition to hiring experienced drivers, Service One offers a finishing program for new and student truck drivers. Brad Schmitz is one such hire who joined Service One after meeting Flagstad at a job fair. "I knew almost immediately that Service One was where I wanted to work, as Dan really listened to what I had to say and was receptive to where I wanted to take my career," he noted. "As a driver, I was given a great deal of responsibility, which led to a sense of accomplishment and success. Dan and his VP, Mike Myszewski, have established a culture that puts drivers first and really allows them to build a career with the company. I recently moved into a new role as dispatcher, and I feel I have a bright future ahead of me at Service One."
Dock Lead Chris Wals is also confident he made the right career choice: "I have been with Service One for almost eight years, and since the day I started, I have always felt valued here. I enjoy my work, and I appreciate the trust management places in me as well as their openness to my suggestions. Though life can get extremely hectic at times, Service One has always been understanding and accommodating of my needs both at work and at home. I truly think of Service One as my second family."
Service One invites experienced and new drivers to apply for open positions. For career changers seeking a driving school in Wisconsin, Flagstad recommends the truck driving diploma program at Fox Valley Technical College, which is certified by the Professional Truck Drivers Institute (PTDI). Recent and soon-to-be graduates from accredited driving schools may qualify for tuition reimbursement from Service One.
To learn more about Service One Transportation and its available trucking jobs in Wisconsin, visit https://www.serviceonetransportation.com.
Service One currently has openings for both Class A CDL company drivers and owner-operators. The Wisconsin trucking company welcomes applicants from its home state and surrounding areas in Illinois, Indiana, Iowa, Michigan and Minnesota.
About Service One Transportation, Inc.:
Headquartered outside Plymouth, Wisconsin, Service One Transportation offers a full range of trucking and logistic services—including truckload, volume less than truckload (LTL) and expedited shipping—throughout the 48 contiguous United States and all Canadian provinces. Dan Flagstad, Sr. founded Service One in 1997 with a single truck; today, Dan Flagstad, Jr. oversees the family-owned and operated business, which now employs more than 50 drivers. The Wisconsin trucking company has earned multiple safety awards—including National Fleet Safety, Highway Safety and Workplace Safety—from the Great West Casualty Company. Service One has a longstanding reputation for unsurpassed customer service and is dedicated to "doing whatever it takes to get the job done right." The company is also highly regarded among drivers, offering excellent pay, full benefits and a "family-first" culture that ensures a proper balance between work and family time. For more information on Service One Transportation and its trucking, warehousing, logistics and supply chain solutions, visit www.serviceonetransportation.com.
Costello,

Bob and Rod Suarez

. Truck Driver Shortage Analysis 2015; report published by the American Trucking Associations;

October 2015

.
State of Wisconsin Department of Workforce Development. "LT Projections 2014-2024" and "2017 Annual Wage or Salary" for Heavy and Tractor-Trailer Truck Drivers; Wisconsin Labor Market Information Data; accessed

July 11, 2018

.