A Class A Commercial Driver's License (CDL) is required to operate vehicles with a gross combination weight rating (GCWR) of 26,001 pounds or more, which may include a towed vehicle that is more than 10,000 pounds.1 Among other requirements, each CDL classification is categorized by the vehicles GCWR. The type of CDL classification a driver applies for will determine the endorsements that must be obtained, as well as the types of vehicles the driver will be allowed to drive. How much weight a driver with a CDL can haul varies and is determined by the endorsements they possess.
Endorsements are for specific areas, such as Passenger (P), Hazardous Materials (H), and Tank (T). Each endorsement allows a driver to carry specific items. For example, (P) means the driver is allowed to carry passengers, while (H) signifies someone who can drive a truck containing hazardous materials – flammable liquids, explosives, radioactive substances and (T) permits a driver to transport a tank with liquid cargo.
With the proper endorsements and a Class A CDL, a driver may be able to operate vehicles, such as tractor-trailers, truck and trailer combinations, including double and triple trailers, tractor-trailer buses, tanker vehicles, livestock carriers and flatbeds. Depending upon the endorsements a driver holds, it is possible that with his or her Class A Commercial Driver's License, operating some Class B and Class C vehicles will be allowed as well. This means that someone with a Class A CDL, may also be permitted to operate vehicles including, straight trucks, large city, tourist or school buses, box trucks and dump trucks.
Source:
"CDL Class (A, B, and C) Licenses." DMV.ORG.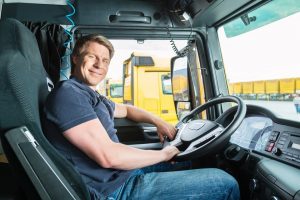 Earn $69,000+ – Service One Transportation CDL Truck Driving Jobs
Flexible Home Time – Family First Company
Now Hiring CDL Truck Drivers
Full Benefits: Medical, Dental, Vision, Life
401K with Company Match
Paid vacation & Holidays
Come to a company who will treat you as an individual not a number