For Immediate Release:
South Sioux City, Nebraska – Service One Transportation, Inc. was presented a Platinum award by Great West Casualty Company as part of its annual Workplace Safety Awards Program
Service One Transportation, Inc,
N5761 County Rd M
Plymouth, WI 53073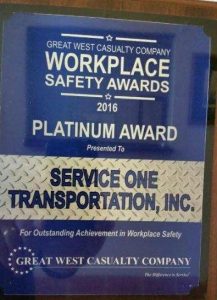 The Workplace Safety Awards program recognizes trucking companies for their dedication to creating and fostering a safe work environment for their employees. Awards are based on a motor earner's year-end workplace incident rate. Carriers are eligible to receive a Platinum, Gold, Silver or Participatory award.
Great West Casualty Company is the nation's leading provider of property and casualty insurance for the trucking industry. With over 60 years of experience, Great West offers risk management, underwriting, claims, and loss control services exclusively to the trucking industry. Great West is headquartered in South Sioux City, Nebraska, and has regional offices in Meridian, Idaho; Bloomington, Indiana; Knoxville, Tennessee; and Arlington, Texas.
#####
For more information contact:
Corporate Marketing Department
Great West Casualty Company
800-228-8053